We've made some updates to the Accounts Section of Towbook designed to make managing your accounts easier and more convenient.
Voiding Payments. You can now quickly and easily void a payment under the accounts section in Towbook. To void a payment, simply go to the account in Towbook then click on the payment you want to remove and the option to Void the payment is at the bottom of the screen. An example is shown below. 

AR Aging Report. We added a new report to Towbook so you can get a summary of all your accounts receivable at any time. To view this report, click on Reports in Towbook and then click on Financial Reports. You will see the Accounts Receivable Aging Report on the list. You can run the report for all accounts or by account type so you have more options when analyzing accounts receivable. This report can be exported to Excel so you can use the data outside Towbook if needed.
Mass Statement Creation. You can now crate a statement for all your accounts with one simple click. This makes it easy to generate all your statements in an instant. Simply click on Prepare and Send Statements and you'll see the option to prepare statements for multiple accounts. See the example below.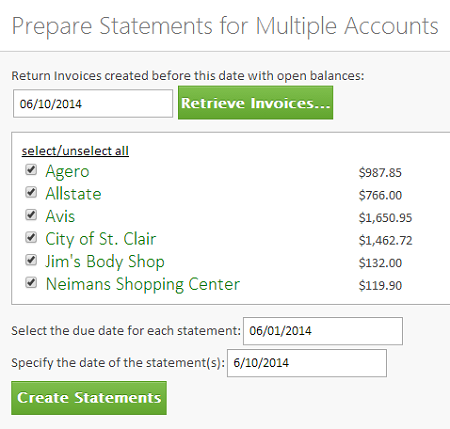 We continue to make updates to the accounts section of Towbook so stay tuned to our newsletters.
To learn more about Towbook, visit us at www.towbook.com