We released several updates to the Towbook Reporting section last week. Most importantly, we changed how Report Exporting works.
The first change is the Export Button has been moved to the top of the page so it's easier to find. See the image below to see where the export button is now located.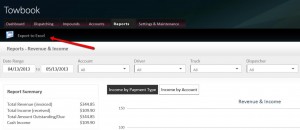 The second big change for Report Exporting is your reports will now export to Excel. Most people are more familiar with Excel and it's more user-friendly and better for saving format changes.

Finally, we made the reports filterable, so you can sort data by important columns and values. This makes the data more usable. See the example below.



Please let us know if you have any questions about Towbook.
To learn more about Towbook, visit our Towing Software page.