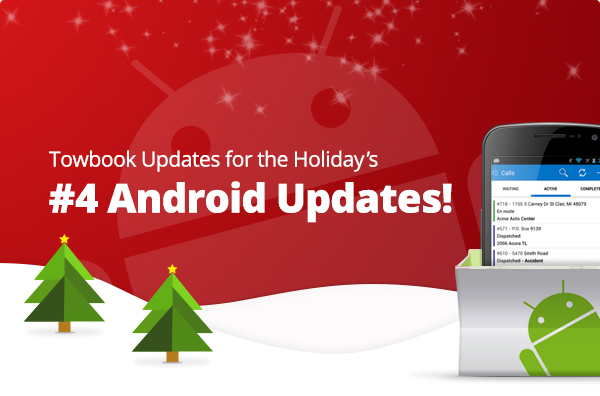 Today we released an update for the Towbook Android App.
Most of the changes were minor, but a few of the updates are significant. Listed below is a summary of the items included in this new release.
Account Name. We added the account name to the view call screen so you no longer have to edit a call to see which account the call is for, which eliminates an extra step.
Push Notifications. We've upgraded the new call notification service to improve the consistency of call alerts.
Agero Digital Dispatching. The Towbook Android App now includes the capability to support digital dispatching. If your company is using Towbook's new digital dispatching service you will receive the new call notification on your phone so you don't have to be in front of a computer.
Added Call Number to the Impound Listing Page
Storage Rate Calculations. We've improved how storage rates and storage start dates work in the Android app. We also fixed a bug that was causing some storage rates to default to one day immediately.
There were also Lots of fixes and updates.
We have many more updates on the way so please stay tuned to our newsletters and our blog for updates; and as always to learn more about how Towbook can simplify and charge your business, visit us at www.towbook.com